Our Services
Our consulting and field service team has over 30 years of beekeeping knowledge and experience! We desire to provide a quality service and product to SW Oklahoma and surrounding areas. Thank you for considering Bee Wise, LLC and giving us the opportunity to meet your bee needs!
Bee Pollination
Some crops are 90% dependent on honey bee pollination. We can provide this service to our agricultural community and let the bees do what they do best!
Learn More About This Service
Bee Cutout and Removal
We "cutout" the entire bee colony and properly remove it for relocation. Our work is done with the greatest integrity toward your structure and care for bee survival. We are one of the few bee removal specialist in the state that carry liability insurance.
Learn More About This Service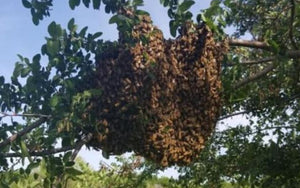 Bee Swarm Capture
Swarming is essential in bee life for their survival. Never try to dislodge a swarm yourself as the bees may become agitated. Instead... call us!! We'll suit up and take care of your bee needs!
Learn More About This Service